Welcome to Misty Moorings, Inc.
(... and maybe this is Welcome BACK?) Many enthusiasts moved on to FSX and of course, Misty was left behind in history. But to our surprise, the hit count on the page is growing as some disallusioned people are now returning to FS2004 (FS9) and finding there way back "home" to Misty. For that reason, we are updating the site. So you will some some construction efforts going on. To see "what's new" go to the NEWS page and you can see the modifications we are working on for you. With the new GNIS Alaska/Hawaii database out for EZ-Landmark, we found we must now do over the EZ-Landmark database for Misty ... as there were many duplicates. So as we "check out" the charters we are revamping that database. Check with the NEWS page for the latest update. As we re-fly the charters, we are fixing minor erros we found in them and you can see those updates on the NEWS page also. "Misty's Place" will re-open soon. If you are new to Misty Moorings, Welcome. If you are coming back, Welcome Home!.
This site is dedicated to the simmer who wants to spend a little more time enjoying the beauty of Misty Fjords National Monument near Ketchikan, Alaska. Once you have purchased the Misty Fjords scenery package, these addons will add additional pleasure to your experience by offering you special scenery addons, charter flights, and other support files like a special database for EZ-Landmark and flight plans for FSNavigator. Previews for the Misty Fjords scenery package can be viewed [here]
Note to VA's: We welcome you to this corner of the world. We are NOT a virtual airline. We have set up flight-seeing charters and have created TripTix (VFR directions) for most addon scenery locations, FSNavigator files, EZ-Landmark files, etc. ... all for YOUR company's enjoyment. So please download the files, use the airports and enjoy the scenery. You'll find the flight-seeing charters and TripTix great for MP situations. (Drop us a line if you fly into PANT or PAKT and we'll put you on our links page).
Also, we are NOT commercially linked to the Misty Fjords Scenery package. We were privileged to be a part of the beta team, and frankly that is why we got excited enough to put together this site for you. The files and charters here will help you make the most of your purchase. We want you to move from "flying a scenery" to "using a scenery" ... that's what will make it as real as it gets. Misty Fjords is not something you "fly over" it is something you "fly into" ... a totally immersion in virtual flight.
For those who enjoy making sceneries, AI traffic files, FSE files ... your contributions are welcome here. We have some experts that will "check it out" then we'll post it. For some folks, once in a while they need a little help trying to put something together, again, contact us here, I bet we've run into your design problem before, we'd be happy to help you.
Startup Note: Get the basic scenery and AI Traffic addon files [here]. Once you have these, then look at the Charters and TripTix to decide which one you may want to fly. If you have EZ-Landmark, download that database from [here].
If you are lucky enough to visit Alaska along the coastline, if you look up, you will see a very busy sky. Not just the occasional jet trail at 35,000 feet, but much lower ... float planes, helicopters, amphibians, ski planes ... all buzzing around busily hurrying from here to there.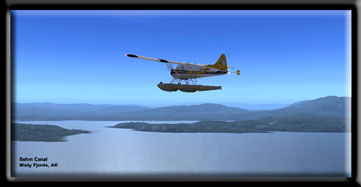 Once you get off a main road, Alaska is almost not accessible, that is UNLESS you have a plane versatile enough to land in the varying terrain of the interior (ice, dirt, water and the rare paved runway). So the small and versatile bush planes and helicopters become the workhorses for linking the remote areas of Alaska to the rest of the world.
If you want to experience the low flying VFR routing of these amazing aircraft and experience the courage of pilots who fly them, you will enjoy what Misty Moorings, Inc. can offer. But we want to add something more than just a route for you to follow. When you look out the window of your virtual bush plane ... what is it you are seeing? If you fly as a tourist in Alaska, your pilot is also a tour guide pointing out the sites and telling stories about the history of the area over which you are flying. We want you to also experience Alaska from a tourist's point of view. So you can not only fly through this beautiful scenery, but so you can learn about it to better understand what you are seeing. The charters and TripTix you'll find here are designed for "the tourist lurking in all of us."
The addon scenery files give you places to go within the Misty Fjords Scenery package. We have added fish canneries, fishing fleets, lumber, ranger stations, lodges, hideaways, saw mills and many other interesting things to seek and see. You will find float plane bases with AI floatplane traffic ... and many more wonderful additions yet to come.
The charters help you learn the territory, they expand your knowledge of the visual waypoints you are encountering so you will know where to make your turns, ascents and descents. Also, it is easy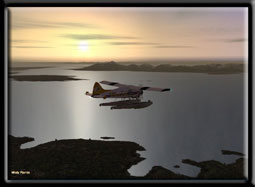 to set a GPS and fly to a waypoint for a lake or a cabin, but what do you do when the weather is not ideal? (You will see, when you download the weather from the internet to make your flight more realistic, that 8 out of 10 times, you are at minimal VFR conditions). But you have people vacationing out in the forest in the cabins that need to be picked up "on Monday" and other visitors who will take their place "on Monday." If you wait for the blue skies, you will have some starving people out in the wilderness and a long line of people in your waiting room drinking your free coffee! Ceilings of 2000 feet are typical ... but the mountains range from 2000 to 7500 feet. You may easily get above the clouds and fly to a GPS waypoint, but where are you going to come down through such a ceiling with hundreds of rocky peaks below you? The only way to solve this problems is fly treetop, above the flat and and [mostly] predictable surface of the water. This means the route you take may not be direct at all, but will be winding through the maze of mountains and fjords. None of these have electronic waypoints ... you must learn to recognize them, visually. The charters, triptix and EZ-Landmark database (if you own EZ) teach you how to do this.
Misty Moorings, Inc Charters are available
You can find charters compiled for you complete with briefing (for the Kneeboard), FSNavigator files, EZ-Landmark database, maps and "Treetop VFR" and narration plans. The Charters are designed to give you guided tours of the area taking you to the various far reaches of the scenery or straight through the heart of the glacier area. These Charters are a good starting point for getting to know your way around Misty Fjords. You can find the charters we have ready for you to date at the Charter Office. You may go to the Charter Office to see how these are put together, then select one and read through it to see if this is one you would like to fly. If you select it, you will be offered all the tools you need for an exciting and informative charter.
Misty Moorings, Inc. TripTix are Available
As in the real Misty Fjords, things are not so easy to find, not only for the real pilot but also for the virtual pilot. When sceneries are added to this beautiful area they seem to disappear in the vastness of Misty Fjords. To help you find the various addon sceneries from Misty Moorings, we are creating TripTix that will help you use VFR Treetop directions to find many of the locations. You can download these and keep them in the map box under the seat in your favorite plane. When you get a charter to go to a certain place, just dig through the map box, find the TripTic and Scotch Tape it to your panel so you can follow the directions to your destination. As we've stated before, Misty Fjords Scenery is not something to "fly over" ... it is something to "fly into." The TripTix will help you with this immersion experience.
Misty's Place
NOTEM: Misty's Place is being renovated and will be open for business soon. Misty's Place was opened up on February 26th, 2005. This is our (web) club house for the virtual pilots who regularly fly the beautiful Misty Fjords. What we have discovered is that many people "try the scenery and stay" ... rarely flying anywhere else. Misty becomes a "home" for them. So for these people, we 've made a special place we call "Misty's Place." You will find a forum (lounge) where you can chat with other virtual pilots also making their home in Misty Fjords. We have live weather reporting for the area, a bulletin board so people can post MP activities, or anything else having to do with the area. There is a special addon scenery for Misty's Place complete with FSE sounds and enhancement. Also, one of our main features is "A Misty Tale" ... an on-going flightsim story by Bryan Kirk. Here you can follow the adventures of David "Buck" Wilson as he discovers and then settles down in Misty Fjords. If you would like to join us, please click on the "key" icon below and follow the instructions. All are welcome at Misty's Place.
Beyond Misty - Ultimate Terrain by Scenery Solutions
For those of you who "fly Misty" frequently, you surely have encountered a certain amount of disappointment as you approach where the Misty Fjords scenery ends and the FS9 default scenery begins. Now, Allen Kriesman of Scenery Solutions has given us a landclass that is nearly as breathtaking as Holger Sandmann's Misty Fjords. This new package renders beautiful scenery for Alaska and Canada "beyond Misty." Holger and Allen have teamed up and designed a patch that "matches" the two packages to an almost seamless boundary. You can learn more about this commercial package and the "Misty Patch" by going to the Beyond Misty page [here].
Summary ...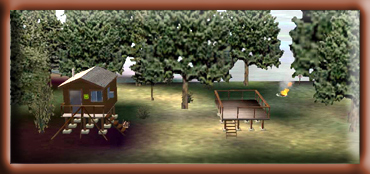 What we have done is to start with the Misty Fjords Scenery Package created by Holger Sandmann and use this as a canvas so the flight simming community can create their own virtual picture of their world in Misty Fjords.
Our addon sceneries give the virtual pilot places to "go see." The charters and the TripTix help the virtual pilots find their way around the beautiful Misty Fjords.
Mistys Place gives people a place to gather and share their experiences as well as provide entertainment via the Misty Tale. All this comes together to give everyone a customized "home" in Misty Fjords. Don't be surprised if you try the Misty Fjords Scenery Package then start putting in the Misty Moorings, Inc. addons, that you might also "stay" in the area. If that happens to you, we have a place for you, and you are welcome to stay with us.
Happy Flying,
The Misty Moorings, Inc. Team