<! ================ Navigation Table ==============================>
<! ===================== End Navigation Table =================================>


You must have installed TONGASS FJORDS for these scenery packages

There is a world "beyond Misty". Holger Sandmann has now created Tongass Fjords that expands the range of the Bush pilots flying out of Misty Moorings. You can purchase this package by clicking on the image to the left. As new sceneries are developed for the Tongass area, Misty Moorings is pleased to give web space for those sceneries here at "Beyond Misty...". You should also be sure to check out the web page for Tongass Fjords that you can find HERE.
Stikine Icefield Research Program
S.I.R.P.
See the Expanded Preview Page HERE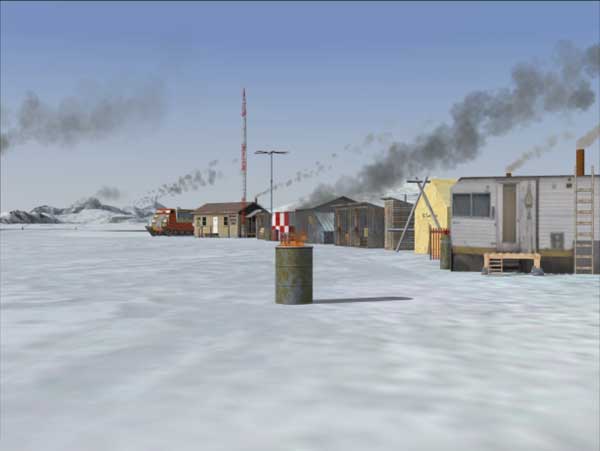 "Based on it's real world counterpart, the JIRP (Juneau Icefield Research Program), SIRP places 10 isolated research camps at various locations in the vast Stikine Icefield that straddles the Alaska/British Columbia border. This area has been beautifully rendered with glacial textures and accurate landclass in the Tongass Fjords scenery package, but has often remained a rarely traversed and under appreciated region. There's a great deal of stunning wilderness scenery out there, and it's our hope that this package will provide flyers an opportunity to challenge their VFR skills while visiting some interesting Icefield destinations. These camps vary from well equipped regional supply centers to lonely, wind battered outposts. In addition, all new fire, smoke, and blowing snow effects for FS9 have been specially designed for this release in an attempt to bring a unique "arctic wilderness" feel to the scenery. This is a Freeware Release by The Amigos.
Download Base File HERE (24.6 MB)
"This ZIP contains all the 3rd party EZ File Libraries used to create SIRP. It is intended for those who have either never installed EZ Libraries, or who have only a few installed, to get a head start in getting SIRP up and going fast. The bulk files are co-mingled into their respective "Scenery" and "Texture" folders for quick activation. Experienced EZ File users who only require a few stand-alone EZ files they may not already have should download those files separately from the "SIRP Manual" 3rd party EZ file links. This is an 88.9MB zipped. As we have included all the textures in the original authors' zips, to retain their EZ library continuity, this file will need 216MB of disc space when unzipped. Authors original docs are provided.
Download EZ-Bulk (EZ-Scenery) Files HERE (88.9 MB)
Special Objects for EZ-Scenery
EZ-Scenery is becoming more popular for the folks who make the sceneries and the textures that go into them. The "Three Amigo's" (Bill Dick, Phil Cayton and Woody Fout) ... the design team for Misty the Misty Moorings are using EZ-Scenery often in their new sceneries for the Tongass Fjords area. Many of these include the great new textures from Woody Fout, which we've placed here for you to download. Any file date in RED has been revised, check the date.
Woody's Workshop

Sept 24, 2006

Sept 24, 2006

Sept 13, 2006

Sept 13, 2006

Sept 13, 2006

Oct 29, 2006

Sept 13, 2006

Sept 24, 2006

Sept 13, 2006

Sept 13, 2006

Sept 13, 2006

Sept 16, 2006

Sept 20, 2006

Sept 24, 2006

Oct 29 , 2006

Oct 29, 2006

Sept 13, 2006

Nov 30 , 2006

Nov 30 , 2006
Other MUST HAVE Files

Flight Sim Enhancer

Flight Sim Enhancer

Flight Sim Enhancer

Flight Sim Enhancer
EZ-Landmark
EZ-Landmark is a "must" especially for the BC area of Tongass Fjords. The maps for that area can be difficult to read and frankly, not much is showing. I've used the BCGNIS database to locate most of the landmarks along the Stikine River up to and just past Telegraph Creek. These landmarks are exact in location and altitude and each one was put in "manually". So when you download the Tongass Wild "dat" file, you'll be then having landmarks showing up across the border from Alaska. The Extended GNIS data sets are excellent and very accurate, but they stop at the AK/BC border. In the Tongass Wild dat base, we'll have all the cabins and special sceneries for all of Tongass, but have focused mainly upon the many missing landmarks that can now be found using this new dat file.
EZ-Landmark Files

Extended GNIS Databases

Latest Tongass Wild (Sept 11th, 2006)

Latest Misty Fjords Modified (Sept 14th, 2006)
TONGASS WILD SCENERY FILES

Click on Letters to Navigate


<! ================================= A ======================================> <! ---------------- button --------------------> <! -----------------end button ----------------> <! ======================================== B ==========================================>
Berg Bay Cabin for Tongass Fjords

Berg Bay cabin is a real cabin, not included in TF. The location is on the NE shore of Berg Bay on the East side of Blake Channel, near mouth of Aaron Creek,
in the Wrangell area.


Alex Feldstein
(09/16/2006)
......... Download the file HERE
<! ---------------- button --------------------> <! -----------------end button ----------------> <! ======================================== C ==========================================>
Chutine Lake Cabins for Tongass Fjords

Chutine Lake Cabin is a fictional setting in a beautiful lake at one end of the Chutine River, in the Tongass area of British Columbia. The best way to reach this remote area is to follow the Stikine River North towards Telegraph Creek and follow the Chutine River West when it empties into the Stikine

Alex Feldstein (09/16/2006)
................... Download it HERE
<! ---------------- button --------------------> <! -----------------end button ----------------> <! ======================================== D ==========================================>
DeBoer Lake Cabin for Tongass Fjords

DeBoer Lake cabin is a real cabin, not included in TF. The location is 20 airmiles (32 km) from Petersburg at the west end of DeBoer Lake (elev. 1420' or433 m), 3 miles (5 km) NW of Thomas Bay.


By Alex Feldstein (09/16/2006)
................................................Download it HERE

Devil's Elbow Cabin for Tongass Fjords

Devil's Elbow is a real cabin, not included in TF. The location is at Rocky Pass, Kuiu Island, in the Kake & Petersburg area.


Alex Feldstein (09/16/2006)
...................................................Download it HERE
<! ---------------- button --------------------> <! -----------------end button ----------------> <! ======================================== E ==========================================> <! ---------------- button --------------------> <! -----------------end button ----------------> <! ======================================== F ==========================================> <! ---------------- button --------------------> <! -----------------end button ----------------> <! ======================================== G ==========================================> <! ---------------- button --------------------> <! -----------------end button ----------------> <! ======================================== H ==========================================> <! ---------------- button --------------------> <! -----------------end button ----------------> <! ======================================== I ==========================================> <! ---------------- button --------------------> <! -----------------end button ----------------> <! ======================================== J ==========================================> <! ---------------- button --------------------> <! -----------------end button ----------------> <! ======================================== K ==========================================> <! ---------------- button --------------------> <! -----------------end button ----------------> <! ======================================== L ==========================================> <! ---------------- button --------------------> <! -----------------end button ----------------> <! ======================================== M ==========================================> <! ---------------- button --------------------> <! -----------------end button ----------------> <! ======================================== N ==========================================>
Nichen Cove

I felt quite lonesome when I supplied Nichin Cove. So here is the settlement, based on a diagram of Tuxekan Island SPB. No additional libraries are required.

......................................Download the file [HERE]


Hans-Christian Jaacks (10/03/2006)
<! ---------------- button --------------------> <! -----------------end button ----------------> <! ======================================== O ==========================================> <! ---------------- button --------------------> <! -----------------end button ----------------> <! ======================================== P ==========================================>
Prince of Wales - More Cabins

These are the 12 Nat. Forest Cabins on Prince of Wales Island left out in Misty- & Tongass Fjords. (AFCAD and FsCargo files included)- Cabins are: Honker Lake, Josephine Lake, Karta Lake, Karta River, Red Bay Lake, Salmon Bay, Salmon Lake, Sarkar Lake, Shipley Bay, Staney Creek, Sweetwater Lake and Trollers Cove. No additional libraries are required.
Hans-Christian Jaacks (10/01/2006) (Placed in EZ-Landmark)
............................................................... Download it HERE
<! ---------------- button --------------------> <! -----------------end button ----------------> <! ======================================== Q ==========================================> <! ---------------- button --------------------> <! -----------------end button ----------------> <! ======================================== R ==========================================> <! ---------------- button --------------------> <! -----------------end button ----------------> <! ======================================== S ==========================================>
Shit Creek - TFSC (Airpark) & TFS1 (Floatplane)

This is a fictitious place, although there is a real place in the USA somewhere, as the textures for the Paddle Store are taken from the original photo of the Store. Shit Creek is located across the Alaskan border in British Columbia, on the Porcupine River tributary off of the Stikine River, at the base of the Porcupine Glacier.
...................................................Download [HERE]
By The Amigos (09/05/2006) UPDATED 11/30/2006

Stikine River Enhancement #1

Makes the upper 50 miles of the Stikine River (from Scud to Telegraph Creek) come alive with waterfalls, rapids, settlements, towns, resorts, wildlife, Canoes, working boats, Riverboats and many other things to make your flight perfect and enjoyable.
......................................Download the file [HERE]

By The Amigos (09/05/2006) UPDATED 11/30/2006
<! ---------------- button --------------------> <! -----------------end button ----------------> <! ======================================== T ==========================================> <! ---------------- button --------------------> <! -----------------end button ----------------> <! ======================================== U ==========================================> <! ---------------- button --------------------> <! -----------------end button ----------------> <! ======================================== V ==========================================> <! ---------------- button --------------------> <! -----------------end button ----------------> <! ======================================== W ==========================================> <! ---------------- button --------------------> <! -----------------end button ----------------> <! ======================================== X ==========================================> <! ---------------- button --------------------> <! -----------------end button ----------------> <! ======================================== Y ==========================================> <! ---------------- button --------------------> <! -----------------end button ----------------> <! ======================================== Z ==========================================> <! ---------------- button -------------------->
<! -----------------end button ---------------->




Watch the " News "

Be sure to watch the News area to see when new postings are made to this page and any other part of Misty Moorings.



<! ---------------- button -------------------->

<! -----------------end button ---------------->



Notes to Designers
If you have created a new "mooring" for Tongass Fjords, be sure to contact us so we can post it here for you. We'll need a picture (we'll make the thumbnail), the file itself, a readme.txt for installation instruction and a description of the property.

We prefer to have only addon sceneries that are within the Tongass Fjords Scenery Package Boundaries.

IMPORTANT NOTE TO USERS




The scenery addons and other programs on these pages are Freeware. Please observe the wishes of the individual authors for any disribution or alteration requirements that may be stated in their documentation.

<! ---------------- button -------------------->


<! ============================ Document Table ====================================>
Document Information

Created:
Sept 5th, 2006
Updated:
Oct. 04, 2006

(Counter since Sept 07, 2006)
<! ======================== End Document Table ================================>
<! -----------------end button ---------------->