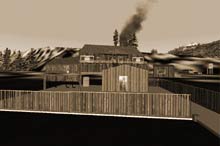 Route Notes:
Minimum altitude: no minimum ... suggested 1000 feet.
Direct Routing: If the weather is favorable, you may fly a heading from Higgins Point of 337 for 27 miles.
Click [here] for printer-friendly TripTic
The Yes Bay Lodge
The Yes Bay Lodge lies in a secluded cove called Yes Bay to the north of Ketchikan, Alaska. It is a fly-in fishing lodge in the Misty Fjords/Tongass National Monument and Forest. In addition this file contains the Anan Creek Bear Observatory and the Anan Bay U.S. Forestry Service Cabin. I have drawn Read Arrows on the sectional to show you where to look.
TreeTop VFR Plan
From: Ketchikan International
To: Yes Bay Lodge
1. Fly a heading of about 295 northwest up the center of the Tongass Narrows.
-you will see ward cove off starboard, with the paper mill
-the furthest point of land to your right is Higgins Point
-Higgins Point is at the end of the Tongass Narrows ... fly toward it.

2. Round the point to the right at Higgins Point set a heading of 330
-You are now flying into the Behm Canal, the waterway circling Ketchikan
-fly just to the left of Betton Island set a heading of 343 for Francis Point
-Francis point reaches out from the port shore, cross over it.
--it is a very narrow penninsula

3. Over Francis Point, set a heading of 348 for Snail Point 8 miles ahead
-Snail Point is the last point of land visible on the port shore
-it is a small rounded penninsula jutting out into the water
-We will pass over Snail point, then turn left toward Yes Bay.

4. At Snail Point, set a heading of 342 for the entrance to Yes Bay
-As you approach the shore, there is a large hill, Bluff Point
-the entrance to Yes Bay is just beyond Bluff Point
-you will see a marine navigation light at Bluff Point
-you may descend toward a safe level above the water
-fly around Bluff Point turning to the left into Yes Bay.

5. Make a left turn around Bluff Point to about 360
-follow Yes Bay, you will see the lodge ahead on the starboard shore

Doug Linn
Charter Manager
Misty Moorings, Inc
contact@mistymoorings.com