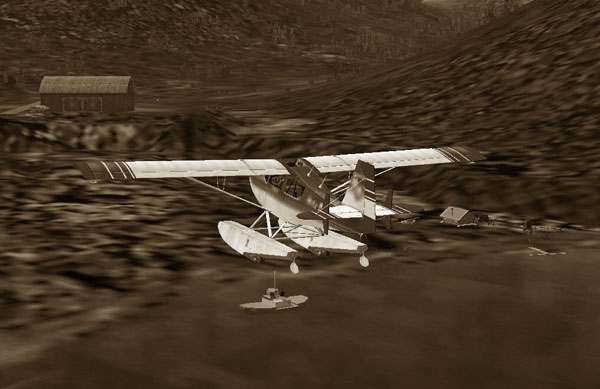 Route Notes:
Minimum altitude: no minimum ... suggested 1000 feet.
Direct Routing: If the weather is favorable, you may fly a heading from Vallenar Point of 277 for 20 nautical miles.
Landing zone: water, not frozen in winter
Windfall Harbor Scenery is needed from Misty Moorings, Inc.
Windfall Harbor
This is a quiet little harbor located on the east side of the Kasaan Penninsula. It has a small airfled, but the airfield is designed for ultralites ... you can land on it, but you must have a STOL type of aircraft (or very light aircraft) and be experienced at landing on a small field. There is a seaplane dock to tie up.
TreeTop VFR Plan
From: Ketchikan International
To: Windfall Harbor
1. Fly Northwest from PAKT to Vallenar Point.
... you will see the paper mill at Ward Point off to your starboard side and then the corporate offices of Misty Moorings, Inc at Totem bight (where there is also a small airstrip).
2. At Vallenar Point set a heading of 277 for 20 nautical miles. You will be flying with no turns up the east side of the Kasaan Peninsula.
3. Windfall Harbor will be a quiet little harbor to port.. Fly into the harbor area at about 500-1000 feet and prepare to land. You should have your flaps down as you enter the harbor. The seaplane dock is at the far end of the harbor, about 3/4 mile ahead.


====================================================----------
To get back to PAKT, simply reverse the route flying 97 degrees from Windfall Harbor to Vallenar Point then on to PAKT.
Doug Linn
Charter Manager
Misty Moorings, Inc
contact@mistymoorings.com