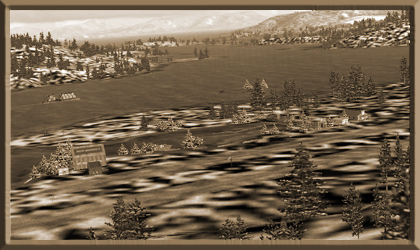 Route Notes:
Minimum altitude: no minimum ... suggested 1000 feet.
Direct Routing: If the weather is favorable, you may fly a heading from Vallenar Point of 284 for 28 miles to Tolstoi Point rounding the point to port lining up on Misty's Place.
Landing zone: Hard Runway and Water, water does not freeze in winter
Scenery needed: MistysPlace.zip from Misty Moorings, Inc.
Click [here] for printer-friendly TripTic
Misty's Place
Misty's Place is a special place created for the virtual pilots who frequently use Misty Moorings, Inc. Here you will find a 2500 foot hard runway, a seaplane base, a lounge, a hangar, living quarters, outfitters and about anything else you would need as a pilot in this part of the world. You will have access to the Totem Bight server giving you access to all the web pages from Misty Moorings, Inc. There is a lounge (forum) for you to chat with each other and even a bulletin board where you can see or post announcements for MP sessions or anything else of importance to the group. Misty's house is nearby, and you'll find Buck's bunkhouse down by Hank's hangar. You will have access to Buck to listen to his Misty Tale, with a new chapter in his adventures coming every 2-3 weeks.
TreeTop VFR Plan
From: Ketchikan International
To: Misty's Place
1. Fly a heading of about 295 northwest up the center of the Tongass Narrows.
...you will see ward cove off your right wing, with the paper mill
...the furthest point of land to port is Vallenar Point, fly over that point of land.
2. As you cross Vallenar Point, set a heading of 262 for 11 miles to Grindall Point.
...At this point, you are crossing over the "Inside Passage".
...You will be flying to the right of Grindall Point putting the shoreline of the peninsula to your port side.
3. At Grindall Point, turn to a heading of 300 for 14 miles keeping the shorline to port and following it up to Tolstoi Point.
... You will pass Lyman Point in about 4 miles to port.
... The shoreline to port is the Kasaan Peninsula
... the low mountain to port is Andrew Mountain.
... small Windfall Harbor comes up to port, Tolstoi Point is about four miles ahead
4. At Tolstoi Point, you will see a large bay around the point to your port. Round the point and head toward Thorne Bay coming to a heading of 240.
... Misty's Place is in Thorne Bay directly ahead about 4 miles. You will see several islands in the mouth of Thorne Bay, fly over those islands.
... You will be coming at Misty's Place almost perpendicular (90 degrees) to the runway. Either prepare to make a your right and turn up Thorne Bay for a right base, or fly over the marine marker in the bay and make a very sharp turn to your right about 90 degrees to make the runway.
To return to Vallenar Point, fly 095 for 26 miles.
Have a safe Trip,
Hank
Chief Mechanic
Misty Moorings, Inc.