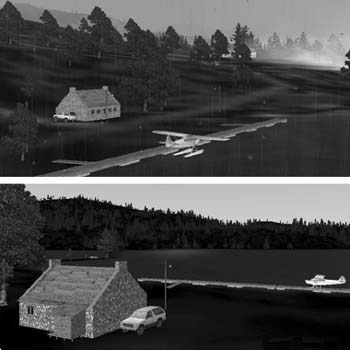 Route Notes:
Minimum altitude: no minimum ... suggested 1000 feet.
Direct Routing: If the weather is favorable, you may fly a heading from PAKT heading of 350 for 14.5 miles.
Landing zone: Water - Roosevelt Lagoon
Scenery needed: Old Watermill
Click [here] for printer-friendly TripTic
The Loring Water Mill
Not too far from PAKT is the beautiful Roosevelt lagoon that is tucked back into the beauty of Misty Fjords. This scenery consists of a little seaplane base, an active watermill and even a little island where you can park your plane and pitch a tent to stay overnight.
TreeTop VFR Plan
From: Ketchikan International
To: Loring Watermill
1. Fly a heading of about 295 northwest up the center of the Tongass Narrows.
...you will see ward cove off starboard, with the paper mill
...the furthest point of land to your right is Higgins Point
...Higgins Point is at the end of the Tongass Narrows ... fly toward it.

2. Round the point to the right at Higgins Point set a heading of 016 and fly over Clover Island with Betton Island off your port wing.
...You are now flying into the Behm Canal, the waterway circling Ketchikan
...You will fly 9.1 miles on a 015 hweading. Fly over Hump Island and Grant Island. You are heading toward a low mountain ridge with Donnelly Point coming up on your right. Fly to Donnelly Point.

3. Over Donnelly Point, set a heading of 052 and get into landing configuration.
...Once you make the turn over Donnelly Point, you'll see Roosevelt Lagoon ahead ... you will be landing on that lagoon.
...As you approach the lagoon, you'll see the watermill on the far shore to the left and the seaplane docks to the left. The little camping island will be off your starboard wing as you land.

Doug Linn
Charter Manager
Misty Moorings, Inc
contact@mistymoorings.com