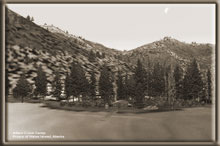 Route Notes:
Minimum altitude: no minimum ... suggested 1000 feet.
Direct Routing: If the weather is favorable, you may fly a heading from Gravina Point of 219 for 22 miles.
Landing zone: water, not frozen in winter
Aiken Creek Scenery is needed from Misty Moorings, Inc.
Click [here] for printer-friendly TripTic
Aiken Creek Camp
You will find this little camp situated at a small extension (Aiken Cove) of the north arm of Moria Sound on Prince of Wales Island. This camp has a very tricky approach partly because of the narrow and turning landing zone. The GPS should be set at N55 07.20 W132 12.10.
TreeTop VFR Plan
From: Ketchikan International
To: Aiken Creek Camp
1. Fly a southeast heading down the center of the Tongass Narrows centering over Pennock Island.
... Pennock Island is the island in the center of the Tongass Narrows across from the cruise ship dock as you are heading southeast down the Tongass Narrows.
2. Over the center of Pennock Island, turn to starboard on a heading of 146 for 2.5 miles to pass over Gravina Point (the last point of land to the starboard side of the Tongass Narrows).
3. Over Gravina Point, turn a little to starboard to 195 to head over Blank Island 1 mile ahead.
4. Over Blank Island, set a heading of 186 for Bostwick Point, the second point of land ahead 4 miles away.
... the first point you will pass is Blank Point, and Blank Inlet is to your 3 o'clock.
...You are flying out into the Nichols Passage that separates Gravina Island, Prince of Wales Island and Annette Island. That is Flat Mountain at your 3 o'clock.
5. Over Bostwick Point, set a heading of 169 for 7 miles pointing you to the Bronaugh Islands, a small group of islands off the Dall Head, the last point of land of Gravina Island coming up ahead.
... you will pass Seal Cove, a little cove tucked into the starboard shorline.
... after passing Seal Cove, you will cross directly over Bron Island, a small island just before the Bronaugh Island group just beyond.
... crossing Bron Island, Dall head is at your 2 o'clock.
6. Over the Bronaugh Islands, get ready for some over-water flying. We are going to cross the Nichols Passage on our way over to the Prince of Wales Island. Set a heading of 227 for 10 miles. (Correct for windage). We are heading for Moria Island, ten miles ahead in the center of the entrance of Moria Sound.
... nine miles away at your 3 o'clock is the Clarence Straight
... there is a marine navigation beacon 2 miles nort of Moria Island that might help you with navigation
... The Whiterock Island group will come under your port wing.
7. Over Moria Island, turn to starboard to 273. You want to cross over the peninsula of land, Halliday Point, at the entrance of the North Arm (2 miles away).
8. Over Halliday Point fly up the center of the North Arm, a heading of approximately 288 ... get down to safe landing altitude (500 feet) and set up landing configuration, your landing zone is 4 miles ahead.
... as you near the end of the arm, take the inlet to the left, this leads into Aikens Cove and Aikens Creek where the camp is located.
...you will fly up a narrow waterway, then be ready to turn 25 degrees to port as the cove opens up before you.
...Aiken Creek camp is on the far port side of the cove.
Note: this is a short landing zone.

====================================================----------
To get back to PAKT, simply reverse the route.
Doug Linn
Charter Manager
Misty Moorings, Inc
contact@mistymoorings.com